Some fluffy new additions have just arrived in our Lle Celf Ddefnyddiol//Useful Art Space.
We've been working with a Welsh artist, Ella Jones to create new play-themed artwork, inspired by Wrexham's renowned adventure playgrounds, The Ventrue, The Land and Gwenfro Valley Adventure Playground.
The new works include "soft" and "wiggly" sculptures as well as giant tentacle arms – all designed to be touched and interacted with.
ARTS, MARKETS, COMMUNITY EVENTS – GET NEWS FROM TŶ PAWB STRAIGHT TO YOUR INBOX.
Introducing Ella Jones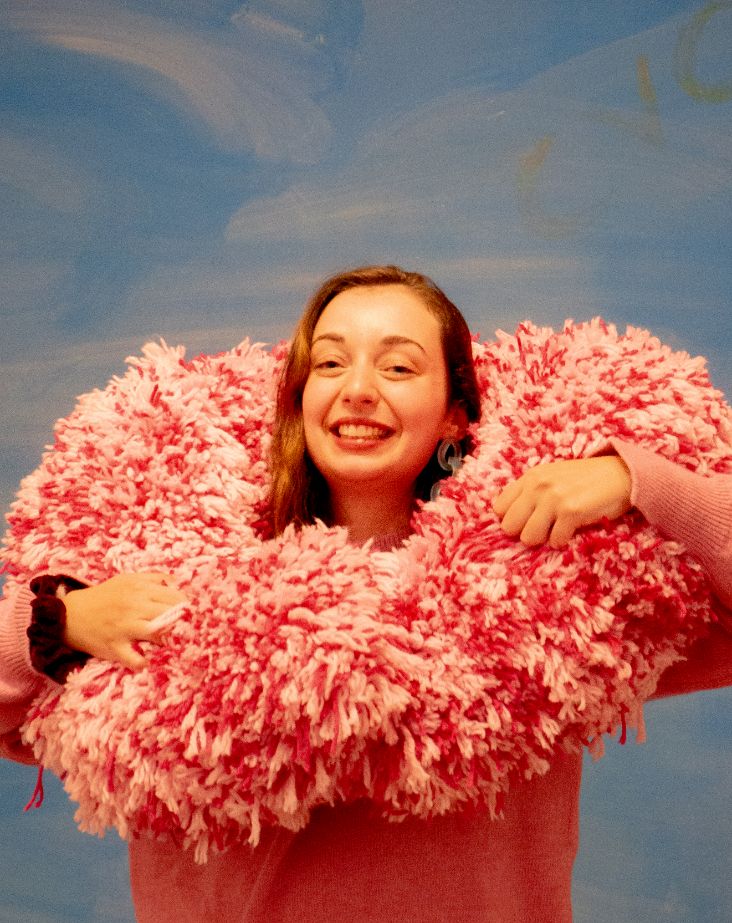 Ella explains her background and the inspiration behind the project: "I am a Welsh artist from Pwllheli, currently based in Manchester. I studied my BA in Fine art at Cardiff School of Art and Design in 2017 and graduated with a Master's in fine art from Newcastle University in 2020. In my practice, I make installations, sculptures, and costumes centered on kinaesthetic learning, which is learning through bodily movement, and I want to create tangible interactions between audience and artwork.
"Science and psychology inform my work on touch from the macro to the micro; from touch therapies and sensory rooms, haptic technology, and design affordances to the workings of touch receptors in the brain and the tactile qualities of cells through a microscope.
"Recent projects include SpwrOriel community-run workshops and exhibitions funded by Menter Mon, Gwynedd (2022), Tibro Yalp exhibition, g39, Cardiff (2022), and Welcome Collection's Mitochondrial Research Artist in Residence Newcastle Upon Tyne (2020-2021), Ingram Prize finalist (2020)."
Wrexham 'amazing adventure playgrounds'
"After discussions and talks with Jo, I was commissioned to begin on a play-themed artwork for the useful art space. I visited Wrexham's amazing adventure playgrounds (Y Fenter, The Land (Plas Madoc), and Gwenfro Valley in April and met the wonderful playworkers and people that run the spaces and the students studying play working. I had the chance to ask questions and delve deeper into how the playworkers thought and saw objects through the eyes of the children. Instead of building sterile, plastic and curved playgrounds, they made places for experimenting, learning, imagining and making for the children.
"Following these chats and visits, I began making fluffy latch hook sculptures inspired by the playground's tyres. I wanted the soft sculptures to be able to slot together, stack, and build.
"Y Fenter adventure playground had wooden bridges with fabric floating down. I thought about dens, tents, hiding places, and spaces kids design and imagine for themselves. So I've made a patterned four-panel fabric sheet with ties on the end so children can play with it like a parachute watching the light go through the different fabric or tie it up to the wall to make their den."
Multisensory experiences
"I've made wiggly silicone sculptures made to be touched and interacted with, like the slimy silicone aliens and squidgy rubber things often at toy shops. I'm interested in making sickly sweet coloured sculptures combined with unusual textures like tentacles, scales, and wiggly shapes that are to be explored by interaction to figure out what they could be, feel like, weigh and smell like. I've also made giant tentacle arms from peeling latex off bubble wrap."
"I'm hoping these multisensory experiences create memories not just for the visual. Still, the memory of how something feels, smells, texture, temperature, softness or rigidness. It's smudginess or roughness.
"I've enjoyed experimenting with processes and learning new techniques like sewing with tent fabric. I've enjoyed spending a long-time making work such as the latch hook soft sculptures with the thinnest yarn; it takes 1-2 months to finish because I have to hook on each strand individually. It's time-consuming but a very relaxing process.
"I'm looking forward to seeing the objects in the space, how they are played, and what people want to do with them."